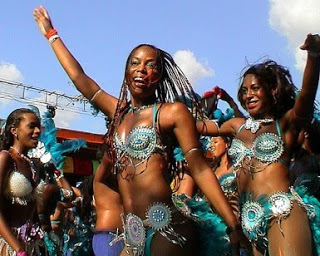 I went to the last day of Miami Carnival celebrations last night. It was an outdoor concert featuring Beenie Man and Marchall Montana (sp?) I didn't really want to go at first because I don't understand what they are saying in those reggae, calypso songs and I don't know how to whine my bottom…but I went anyway because I wanted to hang out with Tamara and dance…
So I went and I had a marvelous time!
I felt like I was on another planet as all my pressures and fears drifted away under the stars. Everyone was out there vibing on the beach, drinking, smoking and just…letting it loose. Tamara is from Trinidad and she gave me her Trinidad flag so I could "wave my flag in the air" and I did.
There's one part where the person performing tells you to "jump up". I did it! There's no real reason to jump up but you just do it just because…and it felt GREAT!
I jumped and I jumped and I waved my flag and I jumped some more and I pushed people and we moved to the left…then the right then we whined down to the ground. Man…it was such an energy boost. I didn't want it to stop but it did..only an hour and a half after we got there.
Men were trying to dance with me but I didn't really want to cuz I don't know how to dance. My hips get tired after a while and I go off beat. Its embarrassing….
But I'm so glad I got to go…. Man…just when you think you're at the bottom, something cool like this happens and you get to be a regular person out enjoying yourself for a little while.
I am so glad for that….
And now…back to being me.